Hello bloggers. Have you just started a blog or did your Adsense account got banned? Then you may want to opt out for Adsense alternatives.
When it comes to making money from ads on your blog, Google adsense is the best way to monetize your blog. But you will need a fully crafted blog and blog posts to get approved for Google Adsense. Besides if you are dealing with low traffic then the earnings from it may not even pay for your coffee.
Why Adsense Alternatives?
Easy approval
No minimum traffic required
Can do better than Adsense in some niche
Low minimum payout
If you are a beginner blogger then you may need some time to get your adsense verified. Or if you got your Adsense application rejected then you may go with the advertising network that I hope will do good for low traffic blogs or new blogs.
Infolinks is an in-text advertising program and one of the best alternative for adsense. It has easy approval process and can do better in case of high traffic niches. It provides in-article, in-fold, in-frame, in-text and in-tag ads. The minimum payment threshold is 50$ and pays through Paypal, Western Union, Payoneer and Wire.
It also gives 10% of your referrals revenue or ad spends.
Bidvertiser is another CPC ad network for beginners. Really good CPC, easy approval process are its features. The CPC Range is 0.01$ – 0.2$ which is very low cost, you can receive pay via Paypal if you cross balance limit 10$.
Monetize your Website or Blog with BidVertiser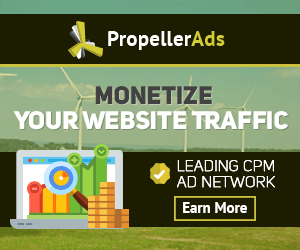 Propellerads is a CPM based ad network that pays roughly 1-14$ for 1000 views. The differnt ad types available are PopUnder, Native Direct Ads, Interstitial mobile ads, Dialogue ads/Push up ads for mobile, Banner advertising for all standard size, Push notification ads. The minimum payment threshold is 25$ and you can get paid through Payoneer, WebmoneyZ, Paypal, Bank Transfer and E-payment.
Revenuehits is a CPA based ad network. It means you'll only be paid if your blog visitor click on your RevenueHits ads and does some specified action. You can payout your RevenueHits earnings from your Payoneer debit card, Paypal and Wire Transfer. The minimum payout threshold is 20$ through payoneer and paypal.
Register with Revenuehits, Best Adsense Alternative
Try all these ad networks one by one to see which one works the best for you. Let me know which works the best for you in the comments below.
See this video to learn more: